Deadbolt
Tankopedia here: https://console.worl...MRC54_Deadbolt/
CREW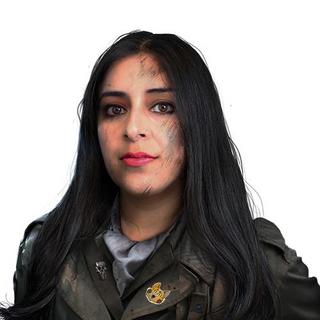 Comes with the Thunder Bot crew, which has the Sixth Sense and Deadeye skills.
A union of French, Swedish, and Japanese machinery. Lock, load, and put the Deadbolt's killer instinct in play.
Defenders are heavily-armored fighters. High defense and HP means they can hold their ground, but this comes at the expense of mobility.
Bio: As the USA and the Soviet Union exchanged nuclear strikes, coordinated attacks on atomic facilities near the Mexico-United States border caused the fallout to spread to Mexico. With her home and town condemned as the radiation consumed everything, Thunder Bot ran hard and fast. With an entire nation migrating further south, overpopulation and lawlessness soon took a hold, and ruthless gangs took advantage of the chaos to seize power. With plenty of experience in engineering, Thunder Bot pieced together what parts she could find to create the formidable Deadbolt tank to stay safe and combat the rising violence. With her black cat Biggs along for the ride, she travels across South America and defends those who cannot defend themselves.
CONTRACT ENDS **/**/****
Stage 1
Win a battle
Earn 1,200 or more XP in any number of battles
Play any Swedish or Mercenary; Tiers IV - X
Rewards: 1 First aid kit, 1 small repair kit
Stage 2
Win 2 battles in a row
Place in the top 8 XP earners on your team in a battle
Earn 2,400 or more XP in any number of battles
Play as Renault G1 or any French or Mercenary; Medium Tanks, Heavy Tanks or Tank Destroyers; Tiers V - X
Rewards: 1 small repair kit, 1 small first aid kit, 1 manual fire extinguisher
Stage 3
Destroy an enemy within 100 meters
Destroy 3 or more vehicles in any number of battles
Earn 3,600 or more XP in any number of battles
Play as Type 3 Chi-Nu or any Japanese or Mercenary; Medium Tanks or Heavy Tanks; Tiers V - X
Rewards: 1 - X2 XP Boost
Stage 4
Deal 3,500 or more damage in any number of battles
Earn 6,000 or more XP in any number of battles
Play as Lago or any Swedish or Mercenary; Medium Tanks or Heavy Tanks; Tiers IV - X
Rewards: 1 - X3 XP Boost
Stage 5
Set an enemy vehicle on fire
Earn a Bruiser medal in a battle
Earn 12,000 or more XP in any number of battles
Play as BDR G1 B or any French or Mercenary; Medium Tanks or Heavy Tanks; Tiers V - X
Rewards: 1 Automatic Fire Extinguisher, 1 Large Repair Kit, 1 - Large First Aid Kit, 1 - X2 XP Boost
Stage 6
Earn a Sniper medal in a battle
Earn 21,600 or more XP in any number of battles
Play any French, Japanese, Swedish or Mercenary; Medium Tanks or Heavy Tanks; Tiers V - X
Rewards: 2 Large Repair Kits, 2 Large First Aid Kits, 2 Automatic Fire extinguishers, 1 - X4 Crew XP Boost
Stage 7
Destroy 25 or more vehicles in any number of battles
Earn 40,800 or more XP in any number of battles
Play any French, Japanese, Swedish or Mercenary; Medium Tanks or Heavy Tanks; Tiers V - X
Rewards:  3 days of premium, 1 - X2 Silver Boost
Stage 8
Earn 75,600 or more XP in any number of battles
Play any French, Japanese, Swedish or Mercenary; Medium Tanks or Heavy Tanks; Tiers V - X
Rewards: 1 GARAGE SLOT, MERCENARY DEADBOLT TANK, THUNDER BOT CREW