SPYGLASS
https://console.worl...MRC60_SpyGlass/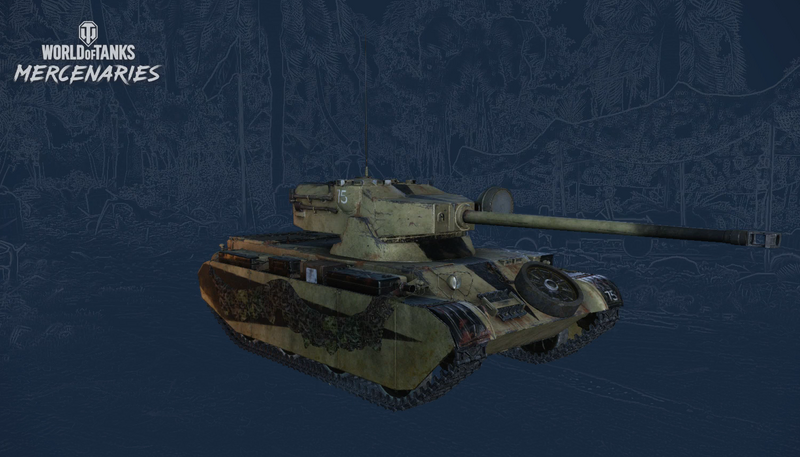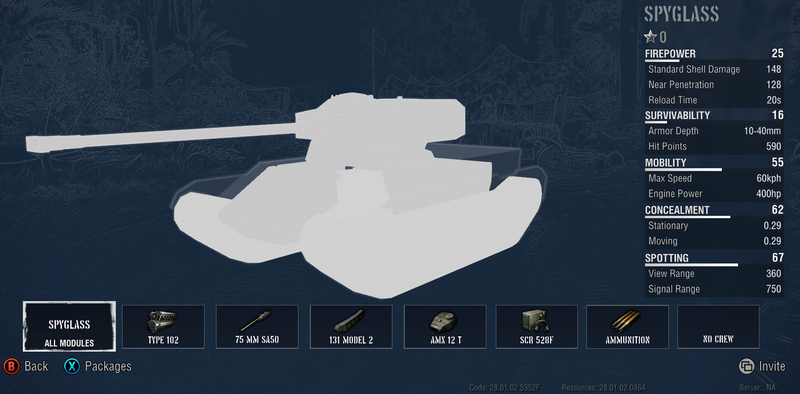 CREW
Comes with the Fell Imperator crew, who has the Sixth Sense and Camouflage skills.
A fusion of French and Chinese engineering, the SpyGlass excels in the arenas of agility and speed.
Scouts use speed and camouflage to their advantage. Keep moving, and use cover to keep enemies in your team's sights.
Stage 1
Win a battle
Earn 1,200 or more XP in any number of battles
Play any French or Mercenary; Tiers IV- X
Rewards: 1 Small Repair Kit, 1 Small First Aid Kit, Stage 2
Stage 2
Win 2 battles in a row
Place in the top 8 XP earners on your team in a battle
Earn 2,400 or more XP in any number of battles
Play as the M5A1 Stuart or any Chinese or Mercenary; Light Tanks, Medium Tanks; Tiers IV - X
Rewards: 5000 silver, 1 - Manual Fire Extinguisher, 1 - Small Repair Kit, 1 Small First Aid Kit. Stage 3 
Stage 3
Detect 3 or more vehicles in a winning battle
Detect 5 or more vehicles in any number of winning battles
Earn 3600 or more XP in any number of battles
Play as AMX 12 t or any French or Mercenary; Light Tanks, or Medium Tanks; Tier VI - X
Rewards: 4000 silver, 1 - X2 XP Boost, Stage 4
Stage 4
Assist with spotting damage totaling at least 1000 in any number of battles

Destroy 1 or more immobilized vehicles

Earn 7200 or more XP in any number of battles
Play as AMX 12 t or any French or Mercenary; Light Tanks, Medium Tanks, Artillery Tanks; Tier IV - X
Rewards: 1000 silver, 1 - Manual Fire Extinguisher, 1 Small Repair kit, 1 - Small First Aid Kit, 1 - X3 XP Boost. Stage 5
Stage 5
Assist with spotting damage totaling at least 1x your maximum health in a battle
Earn a Confederate medal in a battle
Earn 14400 or more XP in any number of battles
Play as Type T-34 or any Chinese or Mercenary; Light Tanks, Medium Tanks; Tier V - X
Rewards: 4800 silver, 1 - Automatic Fire Extinguisher, 1 Large Repair Kit, 1 Large First Aid kit, 1 - X4 Crew XP Boost, Stage 6
Stage 6
Earn 26400 or more XP in any number of battles
Earn a scout medal in a battle
Play any Chinese, or French, or Mercenary; Light Tanks; Tiers V - X
Rewards: 5600 silver, 2 - Large Repair Kits, 2 - Large First Aid Kits, 2 Automatic Fire Extinguishers, 1 -  X2 XP Boost, 1 - X6 Crew XP Boost, Stage 7
Stage 7
Assist with spotting damage totaling at least 7000 in any number of battles
Detect 50 or more vehicles in any number of winning battles
Earn 50400 or more XP in any number of battles
Play any Chinese, French or Mercenary; Light Tanks or Heavy Tanks; Tiers VI - X
Rewards:  26400 silver, 3 days of premium, 1 - X3 XP Boost, Stage 8 1 - X2 Silver Boost
Stage 8
Earn 96000 or more XP in any number of battles
Play any Chinese, French or Mercenary; Light Tanks; Heavy Tanks; Tiers VI - X
Rewards: 1 GARAGE SLOT, MERCENARY SPYGLASS TANK, FELL IMPERATOR CREW