Plaguebringer
Tankopedia here: https://console.worl..._Plaguebringer/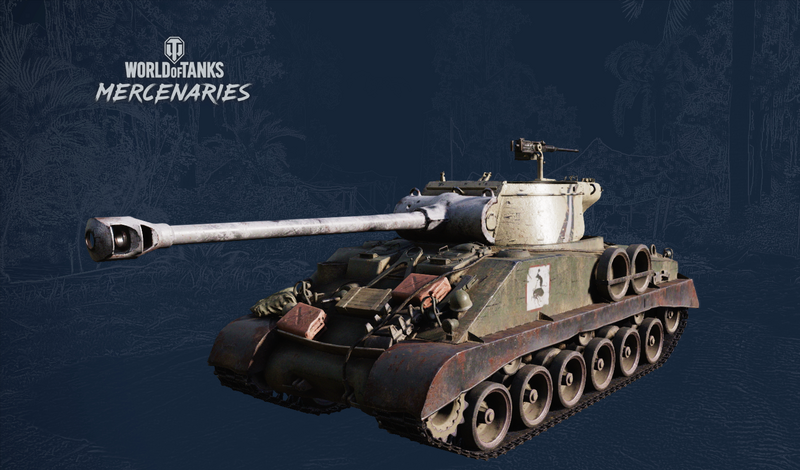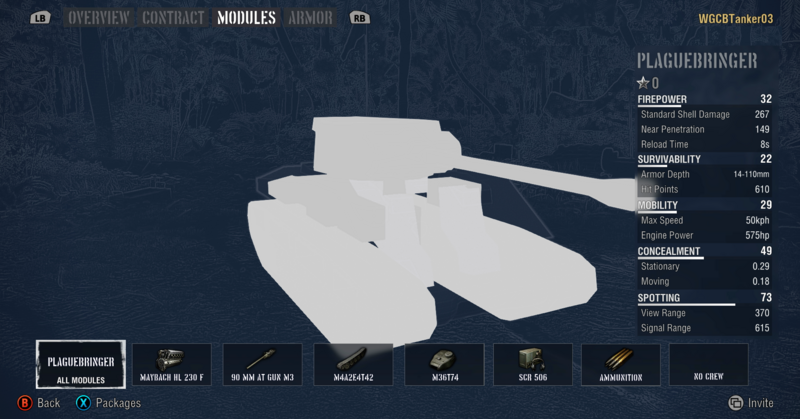 CREW
Comes with the Silent Paladin crew, which has the Situational Awareness and Snapshot skills.
As silent and deadly as its namesake, Plaguebringer excels in silence, darkness and cover, and rarely fails to find its mark.
Deadeyes use accuracy to their advantage. Stay hidden and avoid brawling, delivering a steady stream of accurate damage at range.
Stage 1
Earn 2400 or more XP in any number of battles
Win a battle
Play any American or Mercenary vehicle; Tiers III - X
Rewards: 3000 silver, 1 Manual Fire Extinguisher, 1 Small Repair Kit, 1 Small First Aid Kit
Stage 2
Earn 3600 or more XP in any number of battles
Place in the top 5 XP earners on your team in a battle
Win 2 battles in a row
Play the T40 or any American or Mercenary; Tank Destroyers; Tiers IV - X
Rewards: 1 - X2 XP Boost
Stage 3
Destroy 1 or more vehicles while enemy is farther than 250 meters in any number of battles
Destroy 5 or more vehicles in any number of battles
Earn 6000 or more XP in any number of battles
Play the M8A1 or any American or Mercenary; Tank Destroyers; Tiers IV - X
Rewards: 2 Manual Fire Extinguishers, 2 small repair kits, 2 small first aid kits, 1 - X2 XP boost
Stage 4
Deal 6500 or more damage in any number of battles
Destroy 3 or more vehicles while undetected in any number of battles
Earn 10800 or more XP in any number of battles
Play as the M3 Lee or any American or Mercenary tank; Medium Tanks, Tiers IV - X
Rewards: 16000 silver, 1 Large Repair Kit, 1 Large First Aid Kit, 1 Automatic Fire Extinguisher
Stage 5
Deal damage totaling at least 2X your max health in 3 battles
Destroy 3 or more medium tanks in any number of battles
Earn 21600 or more XP in any number of battles
Play the BDR G1 B or any French or Mercenary tank; Heavy Tanks; Tiers V - X
Rewards: 4000 silver, 2 - Large repair kits, 2 Large firs aid kits, 2 Automatic fire extinguishers, 1 - 3x XP Boost
Stage 6
Earn 44400 or more XP in any number of battles
Earn ta demolition expert or Arsonist medal in a battle
Play any American or Mercenary; Medium Tanks or Tank Destroyers; Tiers VI - X
Rewards: 9600 silver, 3 days premium, 1 - 2X XP Boost, 1 - X6 Crew XP boost
Stage 7
Destroy 60 or more vehicles in any number of battles
Destroy 27 or more vehicles while undetected in any number of battles
Earn 88800 or more XP in any number of battles
Play any American, German or Mercenary; Medium Tanks, Heavy Tanks, or Tank Destroyers; Tiers VI - X
Rewards: 103600 Silver, 3 Premium days, 1 - X3 XP boost, 1 - X6 Crew XP boost, 1 - X2 Silver Boost
Stage 8
Earn 178800 or more XP in any number of battles
Play any American, French or Mercenary; Medium, Heavy or Tank Destroyers; Tiers VI - X
Rewards: 1 GARAGE SLOT, MERCENARY PLAGUEBRINGER TANK, SILENT PALADIN CREW