Jammer
https://console.worl...c/MRC59_Jammer/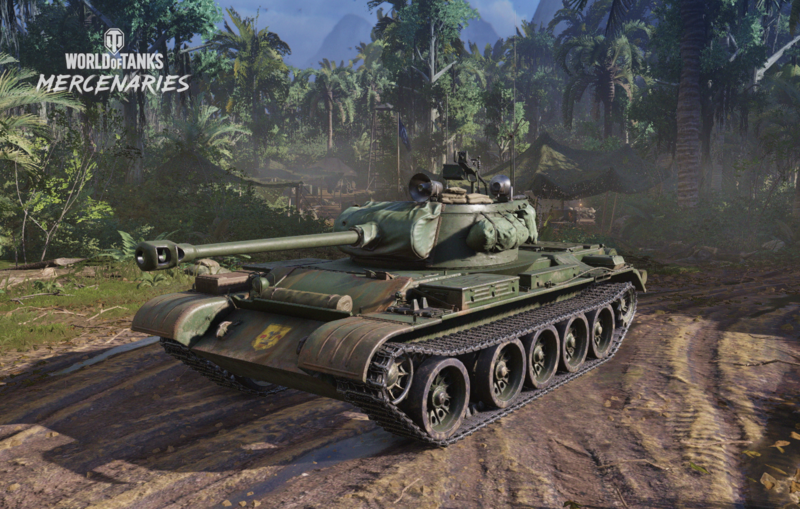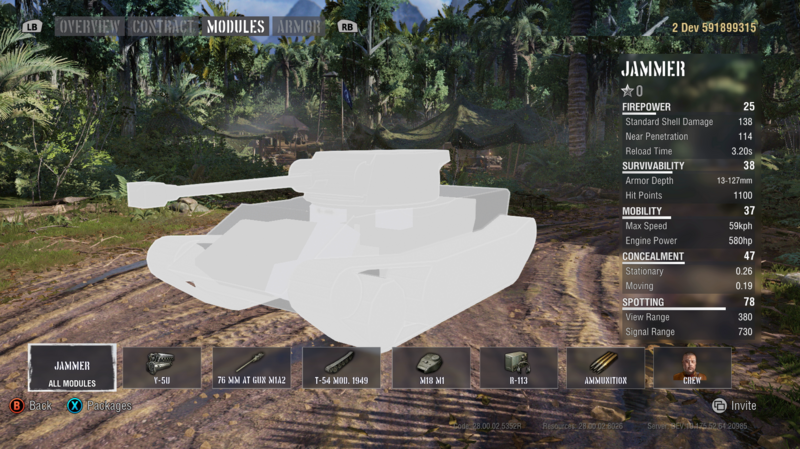 CREW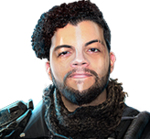 Comes with the Malevolent Dissident crew, who has the Call for Vengeance and Situational Awareness skills.
Solid armor and great mobility give this American-Soviet hybrid the edge over slower, weaker tanks.
Though great all-rounders, Assault tanks can be at a disadvantage against specialists. They are devastating in groups and can be used to weaken enemy footholds.
Stage 1
Earn 2400 or more XP in any number of battles
Win a battle
Play as soviet or Mercenary Tanks; Tiers IV - X
Rewards: 3000 silver, 1 Manual Fire Extinguisher, 1 Small Repair Kit, 1 Small First Aid Kit
Stage 2
Earn 3600 or more XP in any number of battles
Place in the top 5 XP earners on your team in a battle
Win 2 battles in a row 
Play as the T-28 soviet or Mercenary;  Medium tanks Tiers IV -X
Rewards: 2000 silver, 1 - X2 XP boost
Stage 3
Destroy5 or more vehicles in any number of battles
Earn 7200 or mo re XP in any number of battles
Play the T56 GMC or any american or Mercenary; Tank Destroyers; Tiers III-X
Rewards: 1 small repair kit, 1 small first aid kit, 1 - X3 XP boost
Stage 4
Assist with spotting damage totaling at least 2000 in any number of battles
Destroy 3 or more light tans or medium tanks in any number of battles
Earn 14400 or more XP in any number of battles
Play the T-28 or any Soviet or Mercenary; Medium Tank or Tank Destroyers; Tiers IV-X
Rewards: 1 large repair kit, 1 large first aid kit, 1 automatic fire extinguisher, 1 - x3 XP boost
Stage 5
Assist with spotting damage totaling at least 1X your maximum health in a battle
Earn 28800 or more XP in any number of battles
Earn a High Caliber medal in battle
Play the M4 Sherman or any American or Mercenary; Light, Medium, heavy; Tiers V-X
Rewards: 7600 silver, 2 Large Repair Kits, 2 Large First Aid Kits, 2 Automatic Fire Extinguishers, 1 - X2 XP Boost, 1 - X6 Crew XP Boost
Stage 6
Earn 60000 or more XP in any number of battles
Earn a Duelist medal in a battle
Play as any Soviet, American, or Mercenary; Medium or Tank Destroyers; Tiers VI-X
Rewards: 6800 silver, 3 premium days, 2 - x6 crew xp boosts, 2 - X4 Crew XP Boost
Stage 7
Assist with spotting damage totaling at least 17300 in any number of battles
Destroy 80 or more vehicles in any number of battles
Earn 123600 or more XP in any number of battles
Play any soviet, American, or Mercenary; Medium, Heavy Tanks or Tank Destroyers; Tiers VI - X
Rewards: 409600 silver, 3 days of premium, 3 - 3X XP Boosts, 2 - X6 Crew XP Boosts, 2 - X2 Silver boost
Stage 8
Earn 259200 or more XP in any number of battles
Play any Soviet, American or Mercenary; Medium Tanks, Heavy Tanks, or Tank Destroyers; Tiers VII - X
Rewards: 1 GARAGE SLOT, MERCENARY JAMMER TANK, MALEVOLENT DISSIDENT CREW