PLEASE READ THE POST.  LAST TIME, PLAYERS DID NOT FOLLOW THE RULES AND IT TOOK A LOT OF MY TIME TO DO FOLLOW UPS 
IF YOU DONT READ THE INFORMATION AND DO NOT FOLLOW THE REQUIRED STEPS, DONT EXPECT ME TO FULFILL YOUR REQUEST.  NO EXCEPTIONS! 
Hello tankers,
I am happy post and provide the information necessary to claim your Tier X coin.  As I mentioned in previous streams, this will be the last time we do the coin reward.  What does this mean?  It means we will no longer reward players with a Coin after December 31st 2019.  We will be looking in to other ways we can reward players with something unique, only players who have all Tier X tech tree tanks can get.
INFORMATION: 
DO NOT send me your information until the data pull is published and you find your name on the list

The data pull will be published within the first 2 weeks of January 2020
You must research, own, and played a minimum of 1 battle in Multiplayer in all qualifying 59 Tier X tech-tree tanks (Owning a tank, as in you owned it, played it, there is a record of you playing the tank in your stats page.  If you had to sell it, that's fine.  The tank doesn't need to be in your garage.  You just had to own it and played in it at one point in time)
Mercenary Tanks do not count towards the achievement
Free XP tanks do not count towards the achievement
The DATA PULL will be from March 4th until December 31st 2019! 
You have until February 17th 2020 to send me your information via private message in the forum.  Information received after the stated date will not be fulfilled 
If you qualify for the reward within the data timeline stated, but your name is not in the data pull, then Send a ticket to CS

 with the estimate date when you last acquired and played the 59th and final Tier X Tank

.  Please note it has to be between the dates of the data pull.  Not before.  Not After.
We need your GT, name, address, phone number, and the name of the premium tier 8 tank you want as a reward
If you already received the tank, and the coin from an earlier Tier X tank fulfillment, you do not quality for either the coin or the tank.  I will be checking the master sheet to make sure you are not on the list
You do not qualify if you were on a previous list, but failed to claim your coin or tank
I cannot gift the tank reward to other players
Shipping takes 6-8 weeks
We will try to provide tankers with a tracking number (this is dependent on shipping rules for different countries)
Due to the limited amount of coins, no coin replacements will be shipped if something happens during shipping.  Sorry
The coins will be taken care of on a first come-first serve basis
Players can opt out to get a coin and get 2 premium tanks of choice (not from the list) instead
In the possible scenario of running out of coins, players will receive 2 premium tanks of choice (not from the list)
To protect your privacy, qualifying tankers will have to private message me directly in the forums with the following information:
Title of the Private message: All Tier X Tanks Coin Dec 31st 2019
Your address in the following format:  NOTE: If you send me your address in a single line format, I will NOT process your request. NO EXCEPTIONS!
Example of what I want:
Raibot01 Awesome Cat
1234 Cat Landia Avenue
Cat City, Catilandia, 101001
USA
Your Phone Number:  1(000) 555-555-5555
Gamertag: RaiBOT01
The name of any (1) premium tank you want, except the following tanks:
Tanks that are currently in your garage
Tanks in the list below:
LIST OF NOT QUALIFYING TANKS
Please follow the instructions.  Save me the trouble of message back and forwards as I have a lot of messages to answer.  If you do not provide the information correctly, you are taking time away from another player who needs my help.  Be courteous.  The quickest way to confirm your information is to send me a direct message through our official console forums in the format that I asked and I'll be able to reward you faster.
Here's an example of what I am expecting to receive via private message: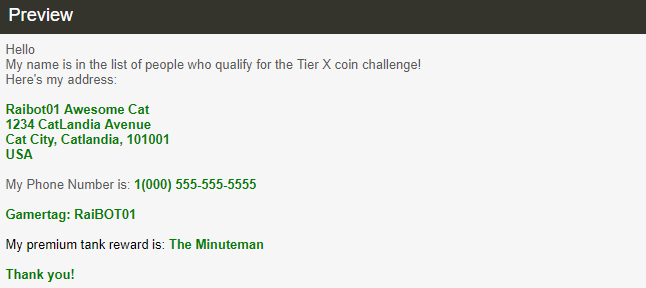 Failure to send the requested information will result in your request to not be processed.  NO EXCEPTIONS.
The final data pull will be posted in this post.  We will notify the community once it becomes available!
Thanks and roll out!
Edited by RaiBOT01, 15 January 2020 - 12:56 PM.